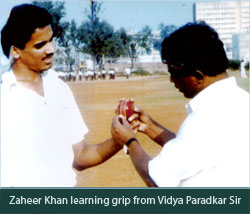 In 1996, Zaheer had come to Mumbai along with his father to learn cricket. He had not even worn cricket shoes when he came to me. I asked him to wear Stud shoes and took his trial. In the trials I realized that this boy had very high confidence for playing cricket at the highest level. His bowling action was very raw. I started coaching him step by step. I also realized that he was very intelligent and a quick learner. He was also very hard working. Initially his feet were not falling right. In cricketing parlance, if one feet was pointing to mid-on the other was pointing to mid-off. So I gave him 20 – 25 mins of running drills and exercises so that he could improve these defects. He never missed his drills and used to do perform them every morning and evening judicially.
I think that his unwavering discipline end it helped him to build a rhythm. I also bought him spike shoes. It is important for a fast bowler to wear spike shoes and Zaheer didn't have them at that time. Zaheer went on improving very fast. At the same time Frank Tyson was conducting a camp at Oval maidan. I asked Zaheer to attend the camp. However, he did not attend the camp. He felt that at Tyson's camp, there will be 60 – 70 students and with me he was a lone student and thus all the knowledge and practice will be only for him and hence he did not want to attend the camp. At the same time there was another camp conducted by Shri Umesh Kulkarni. But Zaheer did not attend even that camp. He believed that whatever knowledge he would get from me would help him to further his career and thus he stayed with me. In the same year, he played for National Cricket Club and he went on performing.
The year 1997 – 1998 was amazing for Zaheer as he continued to improve his bar of performances. His biggest performance was against Victory Cricket Club. For the last wicket he made a partnership of 137 runs. In the partnership of 137 he had scored 70 runs and had also taken 5 wickets. A crucial match against New Hind Club seemed like a losing battle for us as New Hind Club had lost only 4 wickets and required only 14 runs to win. The ball had started to reverse swing and in a spell of 7 – 8 overs, Zaheer bowled 5 maidens and took 6 wickets and single handedly helped National Cricket Club to win the match. In the finals, National was playing Shivaji Park Gymkhana at Hindu Gymkhana ground. Most of the National Cricket Club players had gone to play Ranji Trophy matches. Zaheer was not selected for any of the Mumbai teams not even Mumbai under 19 team. In the finals, Zaheer took 7 wickets in the first innings and Rajesh Pawar took 7 wickets in the second innings. National Cricket Club won the finals defeating a very strong side of Shivaji Park Gymkhana. And from this point onwards, Zaheer came into limelight. Sanjay Manjrekar was very impressed with Zaheer. Whenever Sanjay Manjrekar used to practice in Mumbai he used to call Zaheer to bowl to him in the nets. During this time, Zaheer got selected in the 16 member squad of Mumbai's Ranji Trophy match against Madhya Pradesh.
However, since he was not selected in the Mumbai under 19 squad although he was in the Mumbai Ranji squad, he did not get to play the match. Mumbai could not reach the finals as they lost against Madhya Pradesh. In the next season Zaheer got selected in the MRF's camp for fast bowlers. After spending 1 year at MRF camp, Shri T. Shekhar advised him to play for Baroda. Zaheer transferred to Baroda and played first Ranji match against Gujarat and took 4 wickets in that match. When he had gone to Gujarat and staying in Hotel Rajpat, he called me to ask what he should do as he was feeling lonely and that nobody knew him. I told him that his destiny has taken him to Gujarat and that his destiny will take him forward. I told him to concentrate on his match. Next match was against Mumbai and in that match Zaheer took 5 wickets and Mumbai lost the match by 8 to 9 runs and Zaheer's contribution in that win was tremendous. Next he got selected for the West Zone. Selectors had faith in his abilities and Zaheer got selected to play in the ICC Trophy in Kenya. After that Zaheer never looked back and went on to create history.