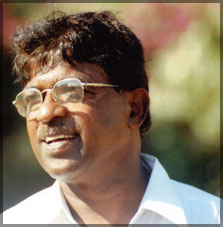 During the late seventies, cricketing facilities in South Mumbai were inadequate. Cricket was more prominent in Shivaji park at Dadar and Matunga where clubs such as Shivaji Park Gymkhana, Dadar Union, etc were prominent. In South Mumbai, club cricket was almost non-existent. Some of the South Mumbai clubs were in B Group or had moved from A to B Group. National Club was in B Group, M. B. Union Club and Fort Vijay Club had moved from A Group to B Group. So at that time, it was felt that a cricket net should be started in South Mumbai. Well-known Hindi film Producer and Director, late Shri. Manmohan Desai played a pivotal role in facilitating this idea.
Union High School did not have a good cricket team. So we got some boys from Girgaum area and built a cricket team. We used to reach the semi finals of inter school Harris Shield and Giles Shield tournament. At the same time, while playing tennis ball cricket I came in contact with Shri Manmohan Desai who was staying nearby and he started coming to the ground. I started discussing cricket with him. He thought that I could be a good cricket coach. He asked me to start coaching the game and showed willingness to help me. My first net was started in Robert Money High School in Grant Road and it required funding of Rs. 25000/-. This money was conferred by Shri Manmohan Desai. With this money, a mat was laid, cricketing material was purchased and the first net of Paradkar's Cricket Academy was launched in 1978. Players such as Pravin Korgaonkar and Deepak Jadhav were there along with me. Slowly boys from South Mumbai started enrolling for our cricket coaching.
Around 1982, ex-Indian cricketer Shri Sudhir Naik visited Robert Money nets as a Chief Guest for a function. Within no time, he realized that the nets were managed systematically. When he saw the boys, he realized that many of them were from South Mumbai and were coming to Robert Money nets for training. He proposed to shift the nets from Robert Money to National Cricket Club at Cross Maidan as it would benefit both, the boys as well as the club. Shri Paradkar accepted this proposal and shifted his nets to National Cricket Club. The outfield at Robert Money was in a dire state. It was uneven and full of stones. As a result the ball bounced unpredictably and got damaged very quickly. On the contrary, the nets and outfield at National Cricket Club was well maintained. The boys got an opportunity to play on lush green outfield. The wickets too were well maintained and so the number of injuries to the boys reduced considerably.
Yet, the most important thing for the boys was that they got a chance to play for a club. Along with me, the players who moved from Robert Money to National Cricket Academy were Sunil More, Jaiprakash Jadhav, Sameer Dighe, Shekhar Bhor, to name a select few. All these players got a good ground to practice, a good source and a good club in the form of National Cricket Club. At that time, National Cricket Club was in B Group. Within one year we moved to A Group and from there on it was very difficult for the opponents to unsettle us. Shekhar Bhor played for Mumbai University. Bhimesh Shah was another player who did well. All these boys practiced under my guidance and some of them went on to play Ranji Trophy. I got the base in South Mumbai which helped all these players. I was with National Cricket Club till 2003 and till then atleast 15 to 20 players played at the State Level. National Cricket Club progressed well and started winning all the tournaments and the players were also benefitted as they got a good platform. Players like Amit Dani, Manish Patel, Rajesh Sutar, Rajesh Pawar, Nilesh Kulkarni who represented National Cricket Club later played for the Mumbai team.