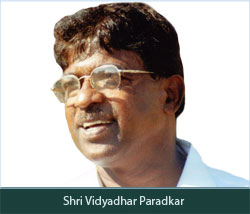 It is said that "Cricket is like a religion in India". Over the years, our country has created numerous cricketers who have carved their niche in the international arena with sheer talent and hard work. Yet, one cannot imagine the immense efforts which are put in by the brilliant draftsmen who always remain behind the scene. Shri Vidyadhar Paradkar is one such passionate architect who has, over the years, molded the talent of many aspiring cricketers and helped them achieve their 'dream for ultimate glory'.
He is prominently revered as Vidya Paradkar Sir in the cricketing regime. With more than three decades of experience as a cricket coach in Mumbai, he has transformed common talent into legendary players. Yet he remains firmly on ground, always humble and grateful towards his benefactor Shri Manmohan Desai as well as his mentor Shri Vasant Amladi.
National Cricket Club has won the prestigious Kanga Cricket league for six years under the adept coaching of Vidya Paradkar Sir. He has been instrumental in bettering the Times shield standing of corporate houses like Orient Shipping Agency, Police Gymkhana and Jain Irrigation. During the 1990's, players like Wasim Jaffer, Sameer Dighe, Nilesh Kulkarni, Abey Kuruvilla, Rajesh Pawar, Avishkar Salvi, Sushant Manjrekar, Amit Dani, Shekhar Bhor, Nitin Tamhane, Santosh Saxena, Pravin Tambe, were trained by Vidya Paradkar Sir. These players played First class cricket for many years and some of them even got the opportunity to play in the Indian Cricket team. Since 2012, Vidya Paradkar Sir is associated as coach with Shinray Toyota who are currently positioned in Group D of Times Shield. He intends to improve their standing to Group A within three years.
Vidya Paradkar Sir is the architect who relentlessly carved the talent of Zaheer Khan from the days when he was a completely raw youngster of 17. Vidya Paradkar Sir modestly acknowledges the loyalty, sincere efforts, hard work, dedication and discipline put in by Zaheer Khan during his early years. An interesting article titled "The Making of Zaheer Khan" says it all.
Vidya Paradkar Sir also has his own coaching school which is better known as "Paradkar's Academy". Talented cricketers like Parag Madkaikar, Hiken Shah, Vikrant Yelligeti have achieved the celebrated landmark of Ranji Trophy and are working hard to sustain and progress further under the constant guidance of Vidya Paradkar Sir. Celebrated women cricketer Sulakshana Naik too joins the training sessions conducted by Vidya Paradkar Sir. Young and aspiring talents like Shashank Singh, Shivraj Deshmukh, Salman Khan, Akash Malbari, Akash Luthra are being finely tuned by Vidya Paradkar Sir for the forthcoming challenges.
Vidya Paradkar Sir strongly believes that "Real cricket gets developed between the age of 18 to 22 years". He feels that "If a player starts serious cricket after the age of 14, he is under less pressure and can progress better".